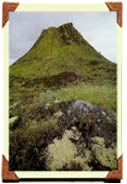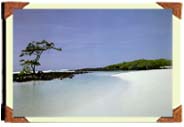 Santa Cruz, the most frequently visited island in the archipelago, is often described as the point of embarkation for any Galapagos journey. Centrally located, it is only a short ferry ride away from the Baltra airstrip, the most common means of entry to the islands. Here, in the town of Puerto Ayora, travelers can charter small boats to farther-flung Galapagos destinations, and here, too, one mile to the east on the coast of Academy Bay, one may expe- rience a positive result of human habitation-the Charles Darwin Research Station, a haven of scientific inquiry and information and a breeding spot for the famed giant tortoise

Santa Cruz is truIy an island of diversity, from its precarious balance of settlement and conservation to its wildly differing landscape, vegetation, and animal life. Reaching almost 3,000 feet above sea level, Santa Cruz offers visible, dramatic changes in its flora and fauna from one area to another. At the sea's edge is a tangled fringe of mangroves and green, salt-tolerant plants. The area just inland from this littoral "zone" is arid forest, dominated by polo santo trees (the name polo santo is Spanish for "holy stick," which refers to this normally leafless (to conserve water), silver-barked plant's characteristic of coming into flower around Christmastime the start of the rainy season) and the Opuntia, or prickly pear cactus. Lava lizards, mockingbirds, and ground finches are the most obvious denizens of this region. Farther inland and upward, the vegetation becomes denser and more varied, slowly becoming transformed into an almost magical, mist-shrouded region of tall trees, covered with mosses and liverworts. This area, originally marked by the native evergreen scalesia, was one of the earliest regions to become cultivated, and consequently much of the zone has given way to pastures and small plantations. Tropical, yet temperate, these beautiful forests are home to the vermilion flycatcher and many species of tree finch. Beyond lies the Miconia (a dense bush endemic to two of the islands) zone, above which, instead of shrubs or trees, looms a prehistoric-looking jungle of ferns, sedges, and grasses, wrapped in fog.

The variety found on Santa Cruz is also geological. In terms of geology, Santa Cruz is relatively old. The "younger" parts of the island are marked by eroded volcanic cones called "cerros' (the most famous being Cerro Crocker). Other features include spatter cones (such as Puntudo), formed by the"spattering" of molten material from an active volcano, and pit craters, small calderas, of which the Gemelos (or "twins") are the most notable.