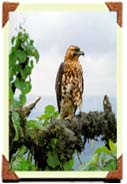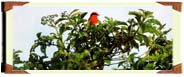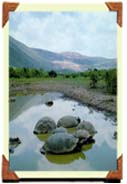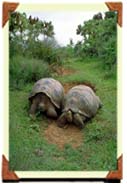 To reach the top of Volcano Alcedo is to enter the heart of the Galapagos giant tortoise "empire." Swelling from the middle of the volcanic chain that stretches across the island of Isabela, Alcedo, with its large caldera and long, narrow rim, supports the largest population of these mammoth tortoises in the archipelago. A natural wonder in its own right, Alcedo's rim-unique among visitor sites in the islands in that overnight camping is permitted here, affords views of spectacular or sunrises and sunsets.

An impressive sight just inside the southern edge of the rim is the volcano's fumarole, with its plume of white steam rising several hundred feet above the roaring vent. The fumarole is the only volcanic activity here, since Volcano Alcedo has not erupted in recent years. The volcano was still active seismically, however, as late as 1954, when a section of its coastline at Urvina Bay was uplifted by several feet, stranding a thriving coral reef community.

Alcedo's rim crowns the volcano's 3,500-foot slopes. Along its twenty-mile expanse runs a network of trails etched by lumbering tortoises as they move to ever-wetter areas with the changing seasons, in search of cooling moisture and vegetation for food. During the "dry" garua (fog) season, the tortoises cluster along the lusher southeastern part of the rim, which is then bathed in a fine mist, nourishing the orchids, ferns, mosses, and lichens clinging to the trees and bushes.

Underneath the trees, small pools form as a re sult of water collecting on the epiphytes and falling to the ground below, and these become favorite resting places for tortoises. During the warm, rainy season, the animals scatter over the rim and onto the caldera floor, where temporary pools provide wallowing areas. In the early summer months, nesting females Direly down to drier, lower elevations to dig egg-laying cavities.

The giant tortoises of Alcedo make up one of the five subspecoes that live on each of Isabela's five main volcanos. The rubble-like aa (Hawaiin for "hurt") lava flows found between the volcano are almost impassable and have formed barriers to tortoise movement, allowing each population to exit and evolve independently. The Alcedo group features the dome-shapped carapaces typical of tortoises found on the heavily vegetated islands, in contrast to those from the lower, more desert-like islands, which have saddle-shaped shells and are smaller. Variation between subspecies of tortoises in different parts of the archipielago was one of the factors that prompted Charles Darwin to consider "origin of species".