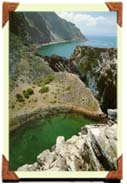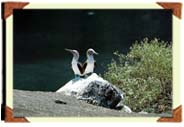 At the mouth of the "sea horse's head" that forms northern Isabela, the small promontory known as Punta Vicente Roca presides over a pair of jewel-like coves. The coves lie on either side of the eroded remains of a tuft, or volcanic ash cone, which make up the point. Facing the ocean is a bay, shielded from the open swells.

The bay is a popular anchorage for boats, from which visitors may transfer to dinghies and ride around the surrounding cliffs-actually the interior walls of a fallen volcano and perhaps into the partly flooded cave.

The area is also a rewarding scuba-diving site, its abundant ocean life the product of cool, nutrient-rich waters up welling off the volcano's steep submarine slopes. On the other side of the point is a secluded cove, accessible from the sea only through water-filled subterranean passages. Sea lions travel through these passageways and gather on the protected beaches of the hidden waters. Large numbers of blue-footed and masked boobies inhabit the point and the sheer cliffs, and flightless cormorants can be seen along the shoreline.

Punta Vicente Roca itself rests on the southwestern edge of Volcano Ecuador. Rising some 2,600 feet, Isabela's sixth volcano is really half a volcano the other half having slid into the oceaneons ago. Travelers rounding Cape Berkeley by boat, heading out from the central islands, are treated to the magnificent cutaway view of the volcano and its caldera.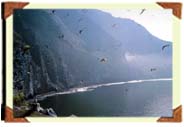 .....