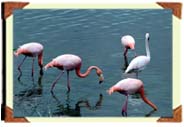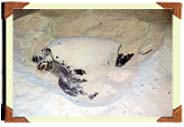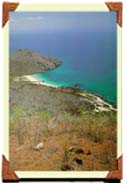 The island of Floreana rests south of Santa Cruz, rising and falling in a proliferation of volcanic cones, which are often gentled by a thin mantle of polo santo forest. The sterner, western part of the island consists of bare lava flows and a striking black sand beach.

At the northeastern corner, however, one finds Punta Cormorant, whose lagoon frequently harbors the elegant flamingo as well as several other species of birds that feed in the still, clouded waters.

Only some five hundred of the proud pink flamingos inhabit the entire Galapagos Islands, spread out over several lagoons and ponds. As conditions dictate, they move from one lagoon to an-other, so that they are rarely seen in groups of more than a few dozen at a time.

Despite their small numbers, flamingos are social breeders and nest together following an elaborate courtship dis-play during which the birds perform in choreographed "parades" back and forth with their uncles stretched up and feathers fluffed.

Floreana has the most interesting human history of the settled islands, (which encompass Santa Cruz, Isabela, Floreana, and San Cristobal), in addition to being a place of great natural beauty. The first colonist of the Galapagos, an Irishman named Patrick Watkins, is thought to have been stranded on Floreana in 1807 and sub-sisted by selling food supplies to visiting whaling ships.

In 1832 the Galapagos were officially claimed by Ecuador and "Charles" Island was renamed Floreana, after the first president of Ecuador.
.....