Approved by:

Visite nuestro HomePage


All Rights Reserved by OnNet
Any requirement please
communicate to webmaster@onnet-ec.com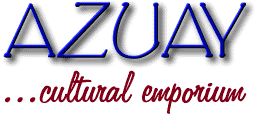 Cuenca is a small city; it enjoy a geographical privileged position and an exquisite landscape.

Cuenca is a romantic colonial city, located in the valley of Paucarbamba, whose meaning "quechua" is "plain of the flowers and of the birds", crossed by four small crystallines rivers: Tomebamba, Tarqui, Yanuncay and Machángara.
| | |
| --- | --- |
| The biggest and better renovated place at the present time is the Historical center of Cuenca. It has an interesting group of buildings that surrounds the Square Central Abdón Calderón. In one side is the House Canons headquarters of the Historical File of the Curia and the Antigua close Cathedral today to the public. In front of the old Cathedral the building of the Court of Justice recovered of rosy marble is; very abundant in the region. | Cathedral of Inmaculada |
| | |
| --- | --- |
| Cupolas in Cuenca | It in the historical center is also the archaeological vestiges of the Incasic city of Tomebamba, the Squares of the flowers and Sangurima, the monasteries of The Carmen and the Conceptas. |
In Cuenca there are excellent museums like the Conceptas Mothers, Art Modern, Central Bank Museus, the Remigio Museum Crespo Toral and those of the aboriginal Cultures.

Due to the extraordinary ability of their people, Cuenca is an empire of crafts. Here they make articles worked such wonderfull like: hats of straw "toquilla", golden jewel and silver, fabrics, embroideries and the best ceramic in the Ecuador.
The markets of the Rotary Square have at your disposure crafts in ceramic tame, wrought iron, embroideries, tins, "cestería" and typical fabrics.

Mazan Protected Forest; it is an Andean forest, protecting the hydrographic basin which provides water for Cuenca. It is rich in Andean flora and fauna.

Also you can visit Cajas National Recreation Area.

Baños is located at the west side of Cuenca. It is very well know by its thermal waters and wonderful colonial architecture. An ideal place for family or friends enjoyment.

Gualaceo; weavings qith tie-dyed patters called "Ikat" are outstanding here. There is also wood carving. Gualaceo offers flowers, fruits and handicrafts exhibitions attended by enthusiastic people.

| | |
| --- | --- |
| Chordeleg; this place is famous for its handwaven works, embroidery, jewelry and shomaking. These products are exported all over the world. The Llaver ruins with interesting legends to know are located here. | |
Cabogana Hill; A group of waterfalls and caves excavated in the rocks and know as the "Pailas de Racar" can be appreciated here.

Chobshi Cave is located in Sigsig. The remains are composed by a huge quadrangular construction surrounded by a high stone-worked wall and numerous minor constructions.

| | |
| --- | --- |
| Buza Lagoon; According to the legend, the mysthical snake progenitor of the Cañaris, disappeared in this lagoon. | |