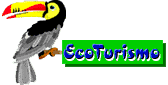 Approved by:

Visite nuestro HomePage


All Rights Reserved by OnNet
Any requirement please
communicate to webmaster@onnet-ec.com
| | |
| --- | --- |
| Machala; the Banana World Capital. It has an intense commercial activity and each year on September 24 it holds a Banana World Fair with extense programs. It is a modern center with well kept residential zones. | |
Piñas; is located 65 km southeast of Machala. One of the characteristics of the town is the culture and hospitality as well as the cheerful and cordial disposition of its people. Every year, Piñas -known as the "City of the Orchids" - celebrates carnaval. The best varieties and most beautiful species of orchids are cultivated here, it is therefore called "The Orchid of the Andes".

Portovelo is located 80 km. southeast of Machala. It is the heart of the oldest gold mining district of the country. These mines are being exploited very rudimentarily on a large scale.

The Tahuin Dan; this Dam is located in the Arenillas Canton, 52 Km. south of Machala. Because of its fabulous structure and importance as a work for use in irrigation, it is visited by many tourists; furthermore, it offers water sport activities and fishing. However, it lacks tourist services.

| | |
| --- | --- |
| | Zaruma; its native name has its origin in two quechua words: Zara: (corn) and Uma: (head) which together would be Head of corn. Its main church is a valuable exponent of wood architecture, It is said that its construction began in 1912 and ended in 1930, the plan being based on a photoengraving of a church in France. |
| | |
| --- | --- |
| Zaruma was created within exceptional geographic surroundings, its entrails saturated with gold deposits and large deposits of Kaolin or porcelain clay. This very Spanish town stands in the midst of the gold bearing district, in the cordillera of Vizcaya, at an altitude of 1.200 m. | |
Huaquillas is considered the best center for shopping in Ecuador. As it is located on the border between Ecuador and Peru it is commercially very active and is visited mainly by tourists; One km away, we have Haultaco where you can enjoy typical seafood gastronomy.

The Tembladera lagoon; in this lagoon, you can realize water sports and fishing. What is very special here is nature. It is located 8 km from the Santa Rosa Canton.

| | |
| --- | --- |
| Puerto Bolívar, it is the second most important port of the country, 80% of the banana production is shipped from here and it is also from here that the Jambeli archipielago can be reached, one of the main tourist attractions of the province where you can enjoy walking on the beach and observe splendid sunsets. It receives during the entire year visitors from abroad and from all over the country. | |